Testimonials from our customers
Our customers like our work. They call us back for repeat business and they recommend us to their friends. Here are just a few testimonials from happy clients:
 
"My wife and I are very pleased with the high quality of your work and with the promptness with which it has been carried out. I shall not hesitate to recommend your firm to others or to use it again in the future."

Donald Scurr
---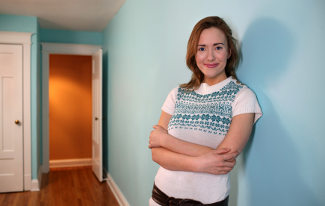 "Thank you for completing the work in such an efficient manner with minimal disruption to our lives."
Angela Grashoff
 

---

"We are very happy with the decorating you've undertaken for us: your staff have been considerate and a pleasure to have working for us."

A. W. Bradshaw, The Bloomsbury Workshop

"I am writing to tell you of my great pleasure at the workmanship you team delivered in repairing and repainting the front of this house. Also the repair and reconstruction of the side gate ensemble.

It is a pleasure to come to the front of the house and to see the results of their good work and attention to detail.

Please pass on my commendations to your team."

Margaret Pirt

"We were very happy with this work which was well done, The painters were of an exceptionally high standard both in their material expertise and their attitude towards the task in hand"

Lesley Hickson

"As I said to you on the phone, could you pass our compliments on to the team that did the painting work. They were courteous and very importantly good at clearly up once the work was done, often good quality work is forgotten when you have to spend time clearing up afterwards!"

Rexford Pennington

"I would also like to commend Stanley for all his hard work. He always arrived for work early and stayed late. He worked quietly, considerately and neatly. My builders had made quite mess of the walls and the wood work which Stanley made good. His paint work was to a very high standard too. It was extremely refreshing to have someone so efficient working in our home! I would definitely recomment him to anyone who was thinking of getting your company to do some work for them. Please thank him again for me."

Katy Hand
To see the actual letter click on thumbnail below,
 
"May I take the opportunity of thanking you for an extremely competent and thorough job."

R.J.F. Tyler, Maunder Taylor, Chartered Surveyors
Click on the thumbnail below to full copy of this reference.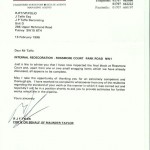 Below are even more of our client references and testimonials from around London. Feel free to click on the thumbnails and have a look for yourself.