Question:
How often should you have to re-paint the outside of your property?
Answer:
Eight to ten years when conditions are favourable
What are these favourable conditions?
1.Correct preparation
2.Use of good quality paint. E.g Dulux WeatherShield or Sandtex Flexi Gloss as part of the Sandtex Trade Exterior System.
3. The work is done during good weather.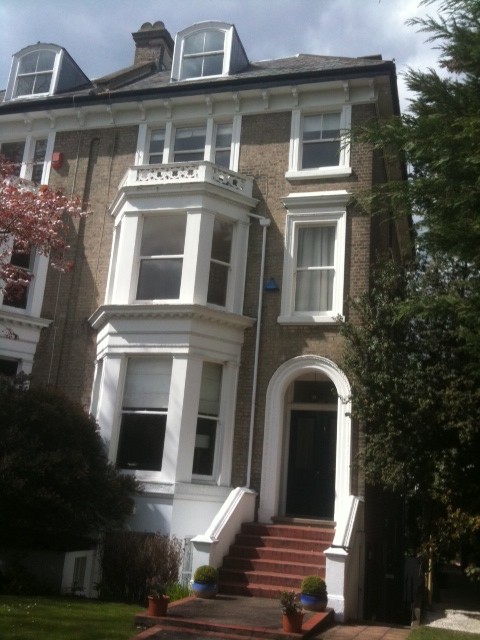 So:
1. Correct preparation is what it says on the tin:
"Paint on a clean, dry surface that is free from grease."
Wash down the surface, scrape off loose paint, sand, make good, ensure the surface is dry, then paint it.
2. Make sure the best paint is used, as 90% of the cost of your paint job is labour.
3. Paint when the weather is not damp, cold or excessively windy.
Simple; but omit any one of the above points and your paint job won't last.
Further tips:
DE-NATURED WOOD
If the timber has become excessively weathered between paint jobs; e.g grey and de-natured, it will not hold paint for long.
The de-natured (grey wood) must be removed by rubbing down, back to good sound, original-colour, wood.
Sometimes if the weathering has been excessive, and the grain of the wood has opened right up, the wood will need to be replaced.
DRY ROT AND WET ROT
DRY ROT
If the wood is crumbly, dry and very light then it could be dry rot; actually it probably is dry rot. Dry rot is a fungus.
The rotted sections and adjacent timbers, must be removed and the area treated with something like Cuprinol 5 Star. But you should get advice in case the problem becomes biblical. Dry Rot was once called "The Plague of Dwellings"
WET ROT
Not as dangerous as dry rot. The wood is sort of stringy, and you can poke holes in easily with a knife or even your finger. It still needs to be cut out completely. However, there is a product called wood hardener that will firm it up so filler can be applied. This is not a permanent repair and is the sort of thing we find when someone has tarted up the house prior to a sale.
Make sure your painter knows the difference between wet and dry rot.
If you want a permanent repair for rot, then replace the wood with new, or what is sometimes better (if the rot is way less than 50% of the section of wood) is to use the Repair Care System. This is a product I've been pushing for years but find it difficult to explain the science of it to clients.
Basically Repair Care does three things that normal epoxy fillers don't do:
It forms a chemical bond with the wood
It won't shrink
And it's slightly flexible-not brittle.
And therefore it won't ever fall out, even from a banging door or slamming sash window.
Smart Dutch people came up with it late last century.
Okay- last two tips:
Make sure the guttering and sills are in good order allowing water to flow quickly away from painted surfaces.
And find a painter who wants a re-usable customer and therefore cares.